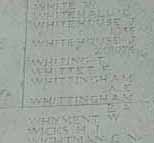 Local papers state = 13/10/1916
Pte. Frank Whittet, of St. Neots, missing.

We learn with much sorrow that Mr. A. C. Whittet, baker, St. Neots, has been informed by the War Office that his son Frank, who was in the Cyclist Battalion, is reported missing.

Before joining the Army he was in Messrs. Barclay's Bank at Huntingdon.

Deep sympathy is felt for Mr. & Mrs. Whittet.