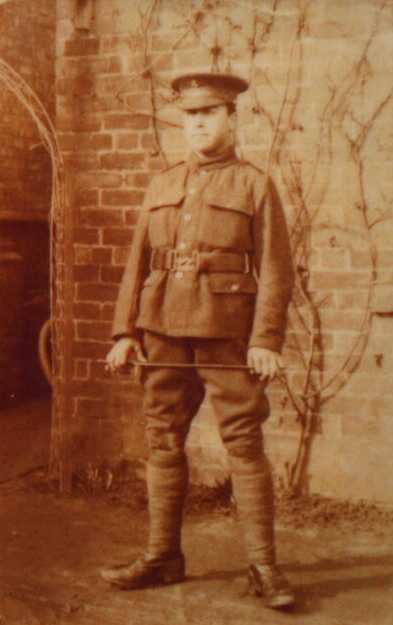 William Sneesby in full military uniform of the Huntingdonshire Cyclist Battalions.
From a local newspaper 15/9/1916 = Pte. W. Sneesby, son of Mr. Robert Sneesby, and Pte. J. H. Dighton, son of Mr. W. Dighton, West street, Godmanchester, were buried by shell fire, but were subsequently rescued.
From a local paper 13/10/1916 = Mr. Sneesby, of West Street, Godmanchester, has been informed of the death of his son, Pte. Sneesby, Beds. Regt., previously reported wounded. His right hand was blown off and he succumbed to the injuries. He was a single man, and prior to the war was employed on Mr. Gadsby's farm.
William Sneesby identified on photo [
third soldier from the left in the front row].
As private 43021, 1st Battalion, Bedfordshire Regiment.
He died of wounds on Monday 25th September 1916 in France & Flanders Aged 19.
Being born and resident Godmanchester he enlisted in Huntingdon.
Formerly 673, Huntingdonshire Cyclist Battalion. He was buried in Bronfay Farm Military Cemetery, Bray -sur- Somme, Somme, France in grave II. D. 36.