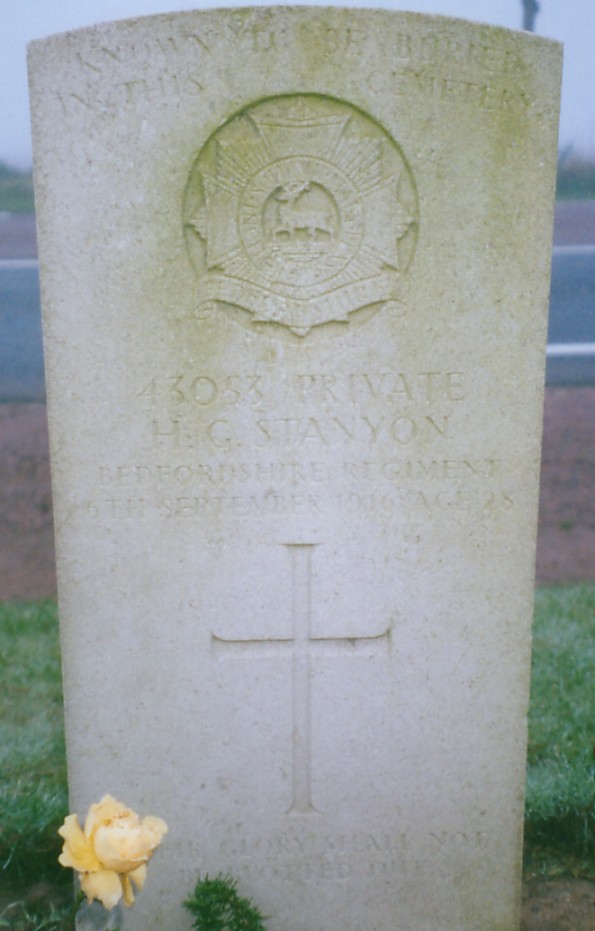 Harold George was born in Little Stukeley, Huntingdonshire and left from there to enlist in the HCB 7/12/1914 at Huntingdon and was given the number 1112, being posted to the 2/1stBattalion and put into A Company. At this time he stated that his parents were the late James and Elizabeth Ann. He was later transferred into the 1st Bedford Regiment - this being when he was posted to France and given the number 43053.

He was posted to the base depot B. E. F . France on 26th July 1916, he was rationed up to and for that day. Order was part 2 No. 171 issued by W. L. Stephenson, 2/Lieut. & acting Adjutant, 2/1st Hunts. Cyclist Battalion. The order was issued at Well Camp Alford at 8-00 p.m., 28th July 1916.

He Died of Wounds whilst serving with the 1st Bedford Regiment and is buried at Peronne Road Cemetery, Maricourt, Somme, France. Special memorial A 14. Aged 28.