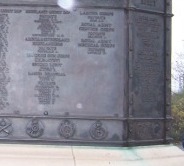 William was baptised on February 5th. 1893 and received on September 4th. 1900. He was the son of Edwin and Harriet Anne [Annie Quince] Partridge [nee Mace]. His father, Edwin was a noted as being a Miller. He was Privately baptised.
Edwin married Harriet A. Q. Mace in 1889 - the marriage being recorded in the June quarter of 1889 ref - Peterborough 3b, 482.
William enlisted in the HCB on the 14/5/1914 at Huntingdon H.Q. [St. Mary's Street] and was posted to the 2/1st Battalion as a private with the HCB number 1204, he gave his place of birth as Offord Darcy. He later transferred into the 2nd. Coy., Machine Gun Corp. [Inft'] as Private 32776,
Many thanks to Herbert Norris, who is carrying out research on the Offord Darcy Roll of Honour, for additional information on the family and background details on this soldier. He was killed in action in France on 10 July 1917. He was posted as 'missing' on the 10/7/17. A local newspaper indicated that he had already been in France and Belgium for two years.
His name is recorded on the Nieuport Memorial, Nieuport, West - Vlaanderen, Belgium.