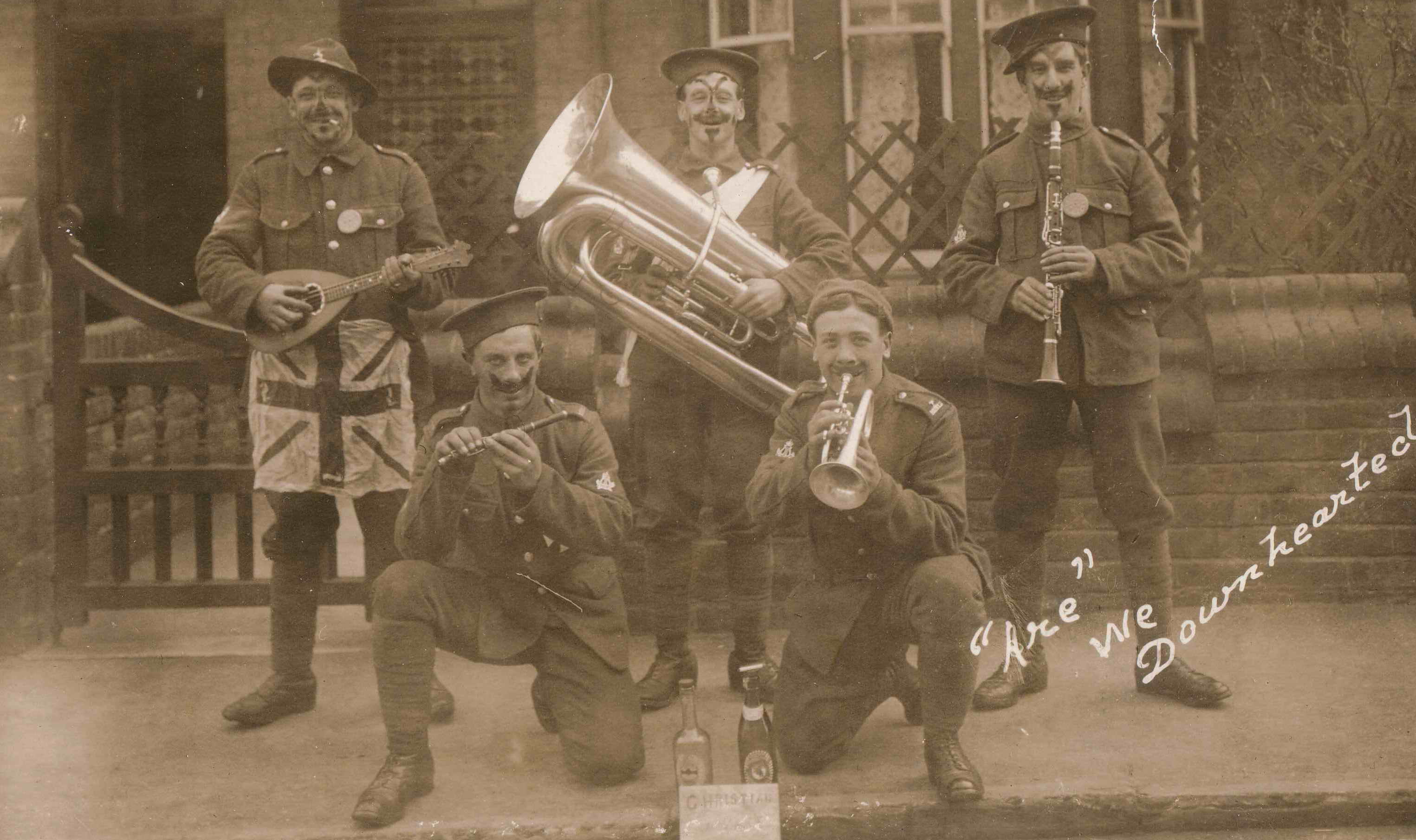 This photo was taken outside their billets at Filey in Yorkshire Musicians Left to right as viewed = Parrot : Goodacre : Hills : Peake : Bird - It was a staged photo of the group of musicians.
Thomas Herbert Peake joined the 1/1st HCB as a private number 102.

He enlisted before the 1/8/17 - this was the first time his name is found in the very scant records that exist for this unit.

He later served as Pte. 290030 in the 5th Battalion Bedford Regiment and as Pte. 295270 in the 4th London Regt.

He was discharged twice - once in 1917 and finally discharged in 6/9/1918.

A great sportsman he was in a boxing match, he won all of his rounds - One such event took place between members of the 1/1st HCB at The Grand Theatre Filey on Friday night 28/1/1916. It was apparently a packed house and a good night of entertainment, with a number of Peterborough and district men carrying off several prizes.

In the lightweight event, i.e. under 9st. 9lbs of an event open to all men belonging to the Detached Mounted Forces, Northern Command, Pte. Tom Peake of Fletton weighing in at 9st. 5lbs. first beat Pte. Pratt, also 1/1st HCB, on points. The contests all lasted three rounds. In the next event he beat Pte. B. H. McDonald 1/7th Cyclist Battalion attached Welsh Regiment, but in the last event against Pte. W. Hinchcliffe, 18th Q.M.O. Hussars, he was forced to retire with a damaged left thumb, but ended the event with the second prize. As he also played in the HCB band this injury also must have had the effect that he had problems playing his instrument. In a special six round heavyweight match on the same bill, L/Corp. Hollis of Hartford and Pte. Beeby of Broadway Yaxley had a cracking fight, which was finally won on points by Beeby. The winner received three guineas and the loser one guinea.

He later became manager at Peterborough United Football club.

He served in the HCB = 1-8-17 to 17-8-17 and in the 4th London's = 18-8-18 to 27-11-17.
Extract from an unknown newspaper dated 4 August 1964 - copy provided by the family of Tommy Peake.

'England is still worth fighting for'

This is the account of Mr. Tommy Peake, chairman of Peterborough United and a former member of the Hunts. Cyclist Battalion.

I joined the Territorials in March, 1912 at the old Coffee Palace in London Road. Our duties were drill and musketry. The following year the Hunts. Cyclists were formed and most of the Fletton Victoria Band signed on as the regimental band under the leadership of Bandmaster Joe Hackney. Only a few of us survive now. There's Fred Malton, Bill Goodacre, George Hill, Dick Beales, Jack Barber, Frank Saunders, Horace Bird and me. Jack [Barber] was one of four brothers in the Hunts. Cyclists. There was also another brother In the Royal Marines.

The first days of the war are very clear to me. We had recently returned from camp when the word came that war had been declared. At six o'clock on the evening of the fourth we were told to muster at the Coffee Palace and check up that we'd everything we needed. The late Sgt. Major Jimmy Grover was there as was the C.O., Colonel Herbert, Captain Warwick and Capt. Charles Rowe.

'Hard bed' - Next day we left the North Station for Grimsby where for the next ten days we were locked up in a school at Littlecotes. There was no bedding and we had to sleep on a hard wooden block floor. That was the hardest bed I've ever slept on.

After ten days we moved to the Yorkshire coast. The band was disbanded and we were trained as stretcher bearers. I got the Job of helping the M. O., Dr. Garrood of Alconbury in make and mend treatment of injuries and issuing "number nines."

I was fortunate in being able to play plenty of sports in these early days and even became interested in boxing, winning a few championships.

The biggest joke to me was when I was appointed a regimental policeman. Imagine it! Tommy Peake, all five foot one of him, a regimental bobby.


Here's a picture of Mr. Peake taken during the last World War. Note the moustache. The lads were ordered to wear them because the officers thought they would make the soldiers look "more manly". He says he frequently shaved the moustache off when returning home for leave.


However, this war on the home front canie to an end for me in 1917 when I was put on draft to Join the forces "somewhere in France." They put me with the Royal Fusiliers and I soon found myself in action.

'Chaos' - I met up with a few of my old pals from the Hunts. Cyclists and one day near the Dirty Bucket Camp close to where the first tanks went into action I heard that the 3rd Northants. were resting. My eldest brother Charles was with them and so I walked six miles to find them. Unfortunately they'd left about half an hour before. Yet standing in the middle of the road directing traffic was Sgt. Ernie Isley. I shouted to him and he left the traffic to look after itself while he came over to talk to me. Talk about chaos. Last I heard of Ernie was that he owned a garage in Chatteris.

We spent a little time on the Yser Canal and one night "Jerry" dropped one over into the canal and we suffered the worse stench anyone could endure.

Someone told us that 50,000 French troops had been tipped into this mud bath that was once a canal.

I dare say at one time it was pretty near the canal with avenues of trees. In those days when I was there the trees had been cut down by shell fire. Rats were there as large as cats and the lice and vermin will never he forgotten by any of us who were there. The billets we had had been occupied by a religious sect who didn't believe in killing lice. Consequently we spent most of our time "chatting." I'd better explain. We stripped down and searched all the seams of our clothes for unwelcome visitors or ran a lighted cigarette up the seams.

'Big Push' - On September 19, 1917, we were told that this was the big push and that night we spent in 18 inch slit trenches. It was cold, miserable and the fire barrage just wouldn't give us a chance for a nap.

Next morning we were ordered to go over the top. You've heard the song "Up to your knees in water, up to your neck in slush?" Well this was it in reality. We were in danger of being drowned in mud. Many were. If you slipped on the duck boards nothing could save you.

I was sheltering in a shell hole with a Cpl. Jack Peacock and three Germans who were prisoners. We were trying to get a bit of cover from the machine guns that were giving us hell. One of the Germans looked over the top and got a packet. A bullet went through one cheek and out of the other without, touching his teeth!

I got a hole through my left hand and the blood didn't start gushing for five minutes as the bullet had sealed the end of he arteries. It was while I was on my way back to the first aid post that I got my "Blighty." A Piece of shrapnel buried itself In my left femur. The gun fire was so heavy that I couldn't be got away that day and had to wait until the following night.

'Didn't return' - The stretcher bearers carted me away to shelter and there I found a Peterborough lad, Charlie Papworth, the only son of a widowed mother. He asked me what was wrong and I told him. Poor Charlie was so dis-spirited and said he wished he were on his way home - even if it meant Injury. That lad never did come home.

When I was at last taken to hospital I was given the first of many operations. For weeks my leg was stretched and straightened and held by calipurs. I kept complaining about an irritation underneath my leg but they all told me it was dried blood. When the day came for the plaster and bandage to be removed the irritation was solved. The biggest flea I have ever seen had been living with me and on me for the past twelve weeks.

Yet it was not a happy ending. My leg had knitted wrong and it was four inches shorter than the other. I blame that flea for that, fording me to move for ease.

A year or so later I lost my leg. It meant an end to all my sports. All my football had to be forgotten. Some might think am bitter about war seeing as I lost what was really my way of life. Yet I'd do the same again tomorrow. I lost a lot but at least I came back and I still reckon this country is worth fighting for.