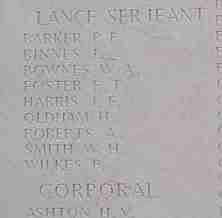 He is remembered at the Tyne Cot CWGC Cemetery on the Ypres Salient.
Lance Sergeant Harry Oldham - 307667 in the 1/8 Royal Warwickshire Regiment was killed in action on Monday 27th August 1917 aged 21. He was born and came from St. Neots, Huntingdonshire and was previously private 370 in the Huntingdonshire Cyclist Battalion. He was the son of John and Martha Oldham, of Church St., St. Neots, Hunts. He is commemorated on panel 23 to 28 and 163A of the Tyne Cot Memorial, Zonnebeke, West-Vlaanderen, Belgium.
Extract from my copy of the The National Roll of The Great War 1914-1918, Section XII, Bedford & Northampton. = OLDHAM, H., Sergt., 1/8th R. Warwickshire Regt. He volunteered in August 1914, and underwent a period of training prior to his being drafted overseas. On the Western front he played a prominent part in many engagements, including those in the Arras and Ypres sectors, but was unfortunately killed in action on August 27th, 1917. He was entitled to the General Service and Victory Medals. ""Nobly striving : He nobly fell that we might live."" Church Street, St. Neots, Hunts."
He is also remembered on the St. Neots War Memorial that is situated in the grounds of St. Neots Church .