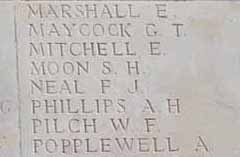 He enlisted in the H C B sometime before the 3/10/1914 when he is first recorded - He enlisted at St. Neots indicating he lived at Eynesbury, Huntingdonshire, but born in London.

Sergeant Frank James Neal 307664, 1/8 Territorial Battalion, Royal Warwickshire Regiment was killed in action Sunday, 27th August 1916 in France & Flanders aged only 21 years. He was born in London and enlisted at St Neots. He was the son of James and Alice Neal, of Colne Road, Bluntisham, Hunts. He formerly served as private 354 in the Huntingdonshire Cyclist Battalion. He is Commemorated on Pier and Face 9 A 9 B and 10 B of the Thiepval Memorial, Somme, France.

From my copy of The National Roll of The Great War 1914-1918, Section XII, Bedford & Northampton = "After volunteering in August 1914, he was retained on important duties in England until 1916, and then proceeded to the Western Front, where he saw much severe fighting. he was reported wounded and missing, and is believed to have been killed in action on August 28th, 1916. He was entitled to the General Service and Victory Medals."

"Courage, bright hopes, and a myriad dreams, splendidly given."

He is remembered at the Thiepval Memorial to the Missing on the Somme in France.

Local newspaper entries indicate that by 17th October 1914 Provisional Corporal F. J. Neal had been promoted to the rank of Sergeant at the time it was indicated that he was serving in D Company.

Local newspaper entries indicate

that he was a casualty in a list of Huntingdon men, he was posted as wounded and missing. He was a member of St. Neots Scout pack.