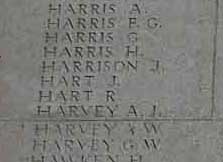 From a local paper =
30/9/1916

Best Of Good Fellows

Private R. Hart, 55 South Street, Stanground, attached to the Bedfords, fell in action on September 4th. The officer commanding his company writing to his widow says: "I very much regret to inform you that your husband was killed in action on the 4th of this month. I was not with the company at the time your husband met his death, but from information obtained I understand he was killed instantly, and thus suffered no pain. He was buried almost where he fell. During the comparatively short time he was with the company, he proved himself to be the best of good fellows, always willing to help others and go anywhere. I thought a great deal of your husband, and I miss him very much,

the only consolation is that he could not have died a better death. Please accept my respectful sympathy in your loss". The deceased soldier leaves a widow and six children.