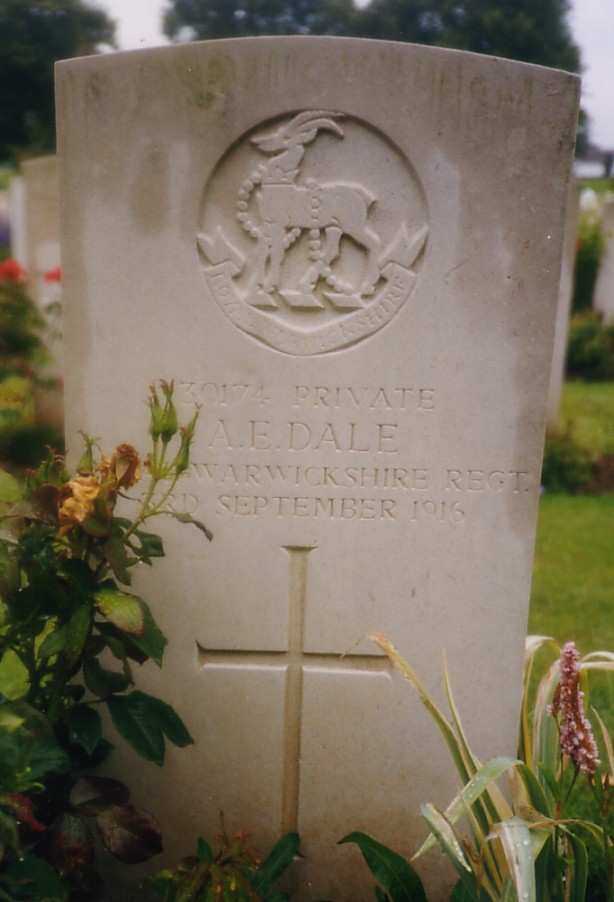 From a local paper dated 1/2/1917 Pte. A. E. Dale, Warwicks, late of the Cyclist Battalion, is officially reported to have died of wounds received on September 3rd.

He is the eldest son of Mr. & Mrs. Dale, of Greenbank Farm, Crowland.

Before joining the Army he was at the Fletton Co-operative store.

His age was 20, and he went to the Front in July last.

Capt. Bailey, of the deceased's regiment writing to the family, says Pte. Dale was struck by a shell which tore off one of his legs.

"I fear" says the officer, "nothing more has been heard of him and it is probable that he died of wounds, and that his body could not be recovered.

I cannot tell you how much I sympathise with you in your loss.

I will do all I can to find out all that is known"
From a local paper dated 7/1/17 = Private A. E. Dale, Hunts. Cyclists, attached warrants, Green Bank, Crowland; died of wounds.