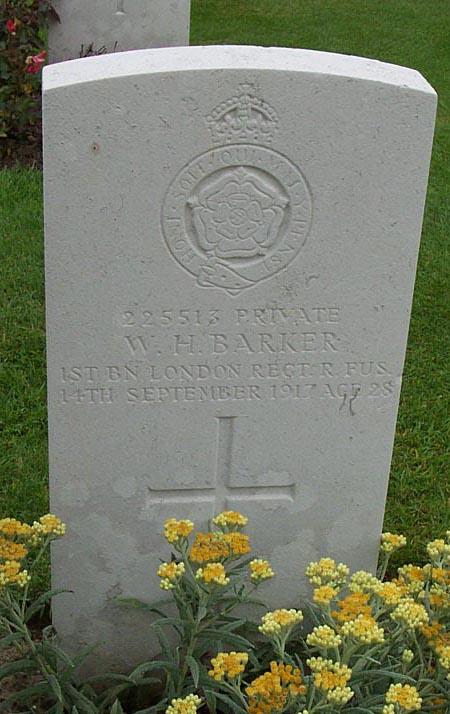 Photo by Webmaster.
William Herbert was born in Madeley and enlisted in the HCB at their Huntingdon HQ in St. Mary's Stree on the 2/10/1914 where he was allocated the HCB number of 535 and posted to the 2/1st Battalion, at the time of enlistement he gave his address as Wellington, Salop
He later went to France and served in the 8th Bedford Regiment with the Army numbers 290145 and then into the 1st London Regiment with the number 225513.
He is remembered in cemetery at Tyne Cot grave XIII-C-13.
Private 225513, 1st Battalion (Royal Fusiliers), London Regiment. Killed in action Friday, 14th September 1917 in France & Flanders. Age 28. Born ?Hunts., enlisted Huntingdon, resident Wellington, Salop. Husband of Hilda Jane Barker, of ""Fairview,"" Cambridge St., St. Neots, Hunts. Formerly 535, Huntingdonshire Cyclist Battalion. Buried in Tyne Cot Cemetery, Zonnebeke, West-Vlaanderen, Belgium. Grave XIII. C. 13.