.
Thomas enlisted in the HCB at Huntingdon with the HCB number 1633. One record indicates that he came from Farcet, another gives his address as 9 Field Terrace, Ramsey. His parents were noted as James & Hannah, 9 Field Terrace, Farcet, Hunts. One source indicates his number was
1636.
.
He was posted to the base depot B.E.F. France on 26th July 1916, he was rationed up to and for that day. Order was part 2 No. 171 issued by W. L. Stephenson, 2/Lieut. & acting Adjutant, 2/1st Hunts. Cyclist Battalion. The order was issued at Well Camp Alford at 8-00 p.m., 28th July 1916. He was born at Farcet. check H.C.B.
He was killed within days of joining the Bedfordshire Regiment, and killed with 3 others by a bursting shell.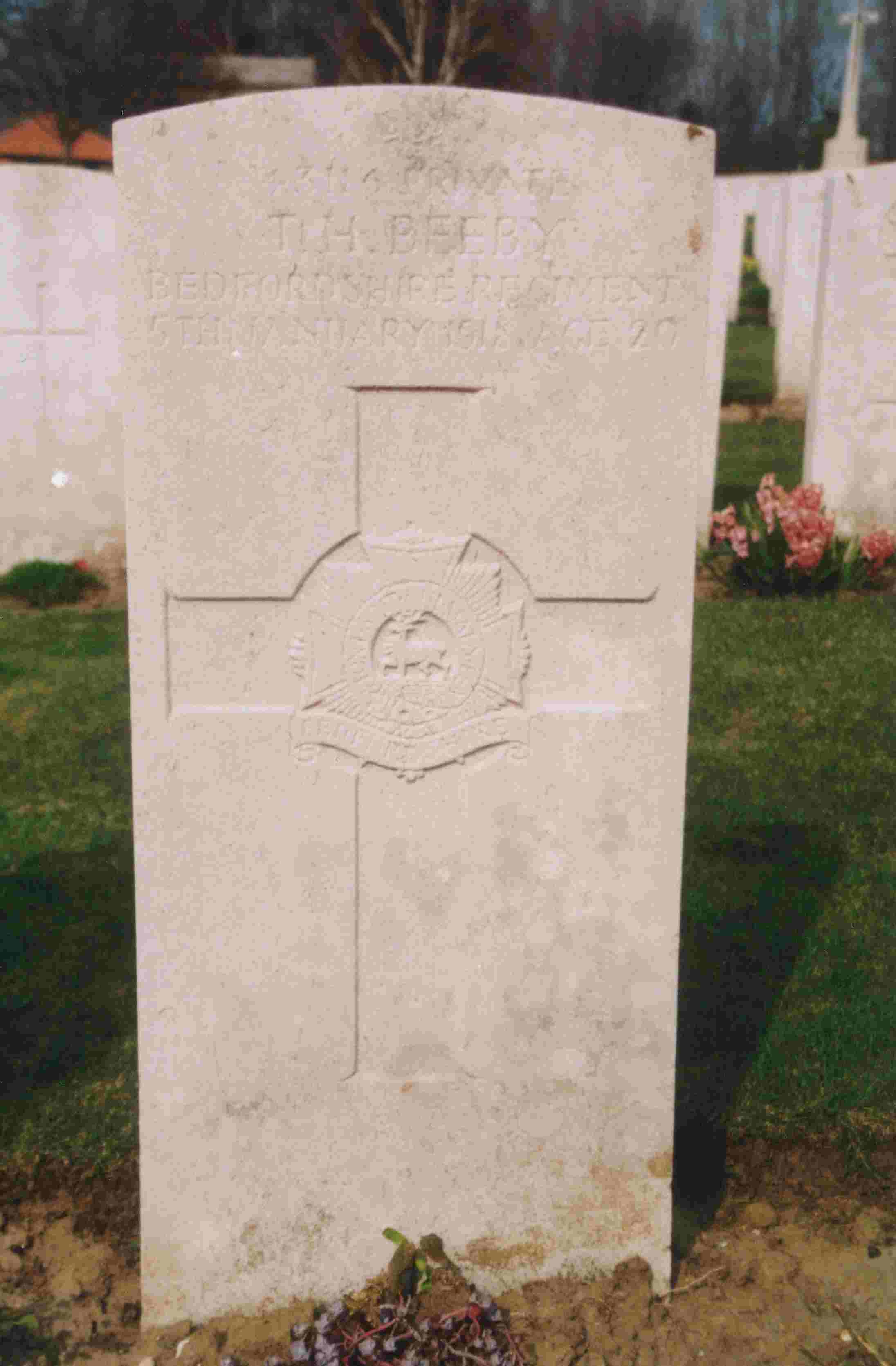 From a local newspaper dated - 19/11/1918.

Pte Thomas Beeby, Beds. Regiment, of Farcet, has been killed in action, a shell killing three of his comrades with him.
From a newspaper dated 8/11/1918 - FARCET MAN KILLED - We regret to record the death in action of Pte. Thomas Beeby, Beds. Regt. The following letter of sympathy has been received from the Commanding Officer - 18/11/18 - Dear Mrs Beeby, - I am sorry to have to write to you to tell you of the death of your son in action within a few days of him joining this Battalion. You will be comforted to know that his death was instantaneous. I cannot tell you the locality of his grave, owing to censor regulations. But I was myself present when he was buried, and he lies near three others who were killed by the same shell, and we have erected crosses over their heads. His effects will be sent back to you by the Officer I/c Records. This will take some time, I am afraid. P. J. Reiss, Capt., OCA, W.T.
He is remembered on the Farcet War Memorial as well as a grave in Hooge Crater Cemetery, Ieper, West-Vlaanderen, Belgium - grave number VII-C-5.