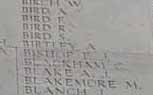 S. Bird - He was part of a contingent of 130 men of the Hunts. Reserve Battalion who had volunteered for active service in December 1914. They left from Huntingdon station in carriages attached to the 10:06 train.
He is remembered at the Thiepval Memorial to the Missing on the Somme in France.
From a local paper = SEPTEMBER 2nd 1916 = Private Sidney Bird, aged 22 of the Warwickshire's, has been killed, he was the son of Mr. and Mrs. Bird, 11 Globe Street, Peterborough, who received the news from Private Herbert Rands, another son of hers. Private Bird had been out in France a month, and he and his brother were old paper boys for the local press, and were present at the teas and entertainment so successfully organised by Sergeant S. Thurley of the Publishing Dept. of the Peterborough Advertiser office.