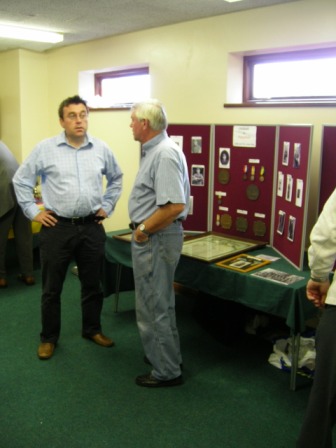 Steve Dighton at the book launch of
'Orchards to Poppyfields'
A new book on the men that came from Colne, Huntingdonshire and served in WWI was launched on Friday 13th July 2007, and despite the date, its launch was a great success.
The book was launched in Colne Village Hall by its author Steve Dighton, with displays and talks about the Cambridgeshire Regiment, The Huntingdonshire Cyclists and details from the relations of men that served from the Village as well as some battlefield relics. It was very well supported which indicates the interest in this project has created in the local community.
The Royal British Legion was in attendance and paraded their standard with a silence being observed for the men to be remembered by all who attended.
After the launch there was great interest in the various displays that were laid on, especially the medals on display, and the younger set we very interested in the battlefield relics also on display.
The book, telling the detailed stories of the men, is still available from the author Steve Dighton who can be contacted directly through the following e-mail connection = stevedighton@hotmail.co.uk it is priced at £6-00 [including inland UK p&p].
It is a great little book and well worth a read as it details the life and times of the men from the village and how they willingly volunteered to serve their country.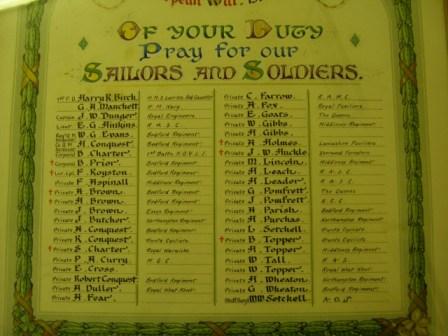 This memorial scroll was also on display at the event, it normally resides in the local church , next to the war memorial, as a record of those men from Colne that served in the 1914 - 1918 conflict. The Roll remembers the name and Regiment the men served in and their stories are told in the book.
The scroll includes the following named Hunts Cyclist men remembered on this site.
R. Conquest - L. Setchell - B. Topper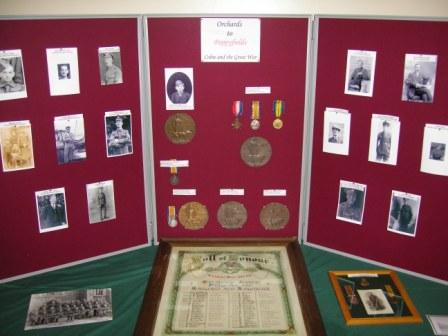 Part of the display on the men of Colne that are detailed in the book 'Orchards to Poppyfields'.
The book is priced at £6-00 [including inland UK p&p] and can be obtained from Steve Dighton who can be contacted directly through the following e-mail connection = stevedighton@hotmail.co.uk