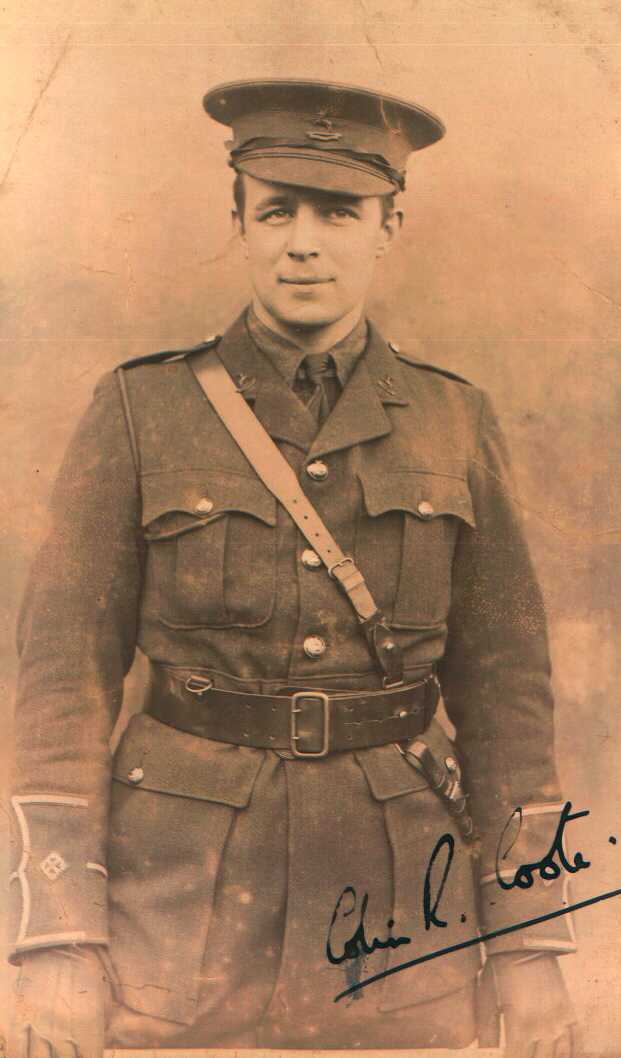 Colin R. Coote in full Military Uniform. - This officer is noted as both C. A. and C. R. Coote but investigations show that he is the same person.
Local papers of the 4-8-1916 quote:-
"The following has appeared in the personal column of the "Times" this week :- " Coote - Lieut. C.A. Coote, attached Glousters, reported missing July 24th - Any information gratefully received by Harold Coote, Houghton Grange, Hunts."
From a Review in the published H C B Gazette I quote:-
"Tabloid Transport," by C.A. Coote (author of the "Wirepullers"). Owing to the scarcity of barbed - wire Mr. Coote has turned his attention to the invention of featherweight motor traction. This volume goes to prove that his methods have met with a measure of success. Having discarded engine, works, gear - case, mud - guards, foot - rests, breaks, and handle bars, he still finds it possible to produce a machine which will reach 75 miles per hour down - hill on the "out - side edge" principle, composed in its entirety of a frame, two wheels, a screw and an old boot - lace. We may say that when Mr. Coote sets his mind and body to work nothing will stop him."
From Peterborough Standard 17/10/1914 under a heading "The Hunts. Cyclist Battalion." orders for Sunday (< 17/10/1914)

gave the following change of company responsibility for the officers, it was also stated that these changes were by no means permanent.

Lieutenant C. R. Coote to be posted to the Maxim Gun Section and attached to H Company.
From local papers :
4/8/16 = We learn with deep regret that Lt. C. R. Coote, attached Glousters, formerly of the Hunts. Cyclists, only son of Mr. C. Harold Coote, Houghton Grange, Huntingdonshire, has been missing since July 24th.
25/8/16 = Marriage of Mr. C. R. Coote.
The marriage took place on Saturday, at All saints', Hessle, Yorkshire, of Lt. Colin Reith Coote, 4th Gloucester Regiment, Territorial Force, elder son of Mr Howard Coote, Stukeley Hall, Huntingdon and Miss Marguerite Wellsted, youngest daughter of Col. and Mrs. Wellstead, of Tranby Lodge, Hassle. The Bishop of Hull officiated, assisted by the Rev. their Hon. C. F. Lyttelton. The bride, who was given away by her father, was attended by four children, one of them being Master Anthony Coote. The Liberals of South Huntingdon gave a silver kettle as a wedding present.
27/4/17 = Lt. C. Coote, son of the Lord Lt. the Huntingdonshire, was wounded in the arm in their recent advance, and has returned home.
11/1/1918 = Lieut. Colin Coote, M. P., has been promoted to Captain. He is now in Italy.
Information from Cliff Brown = Lieutenant Colin Reith Coote, MP - 24th September 1918
"For conspicuous gallantry and devotion to duty during an enemy attack. By his personal example and coolness he held his men together during a critical period and personally led two counter-attacks, inflicting considerable casualties and thus staying the enemy's advance and enabling the situation to be reorganized. He did very fine service."
Sir Colin Coote was born in Huntingdonshire in 1894. Commissioned 28 Aug. 1914 into the Huntingdonshire Cyclists, transferred to 4th Glosters in Nov. 1915. 1/5th Bn 1915-1917. Wounded 1917. To Italy with 1/5th Bn (DSO for Asiago Plateau, July 1918). Gassed in France 1918. MP 1917, aged 23 (Coalition Liberal). Left the Commons 1923 and became a journalist with The Times. 1942 joined the Daily Telegraph. Knighted 1962. Editor 1964-1974. Died 8 June 1979.