I am most grateful to David Knight, the Stonyhurst College archivist, for his invaluable help. This article has been enriched by information gleaned from Mr Knight's own article on Charles Laughton in the 2005 edition of 'The Stonyhurst Magazine', from information on MacSherry, taken from back issues of the same magazine and from the 'Stonyhurst War Record', as well as Miss Elsa Lanchester's autobiographical book 'Charles Laughton and I' (Faber and Faber, 1938). G. Porta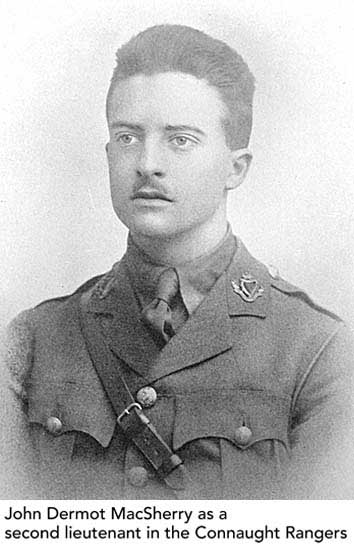 Charles Laughton made his stage debut on December 1st 1913, in the play "The Private Secretary", which was the play chosen by the Grammar boys for that year. Laughton was cast in a secondary role as an inn-keeper, probably because the directors of the play unimaginatively thought that the part would be suited to the hotelier's son he was. The reviewer of "The Stonyhurst Magazine" was pleasantly surprised by the fourteen-year-old debutante's performance: "We were greatly taken by the acting of Charles Laughton as the solicitous old lodging-house keeper. His part was far too short; we wanted more of him for it seemed to suit him excellently".
Miss Elsa Lanchester, writing about her husband's first theatrical experience, stated the following: "This was the only occasion in which he was given a chance to act at school. The show was stolen by a fellow called MacSherry, who played Mr. Cattermole, and who in consequence remained Charles' hero for the rest of his school life". Indeed, MacSherry, playing the more substantial role of Mr. Cattermole, received an ecstatic review: "We must award the palm to Dermot MacSherry for his splendid performance as Mr. Cattermole. He looked the character to perfection. His voice, his corpulency, his complexion, his generosity with his money and his gouty walk, his meeting with the tipsy taylor, his disdain for the 'goods and chattels', and finally his sitting down on the sleeping 'medium' will not easily be forgotten". This was MacSherry's first theatrical triumph at the school, to be followed by his villainous Dr. Roylott in "The Speckled Band", a stage adaptation from one of Sir Arthur Conan Doyle's celebrated Sherlock Holmes' adventures (Incidentally, A. C. Doyle had been a student at Stonyhurst). In this role he made a greater impression, in spite of not a very appropriate make-up, which included a black beard which concealed half his face. The reviewer from "The Stonyhurst Magazine" wrote about his performance "So prolonged an exhibition of frightfulness we have rarely seen (...), and his periodical fits of depression and repentance raised the impersonation from being a monotonous display of savage temper into quite something of refined study of a complex temperament. There was a great deal of hard thought and careful interpretation to be seen in this very tiring part, which might so easily have become mere ranting and never did".
Other parts he played at Stonyhurst were Mathias in "The Bells" and Portia in "The Merchant of Venice". MacSherry was the only Stonyhurst student ever mentioned by Laughton (as far as it can be gathered from printed source), so from this (and Laughton's lifetime admiration for all kinds of performers, whether they were amateur or professional, vaudeville comics or Shakespearian tragedians) we assume that his recollections of MacSherry were indeed positive. Laughton was in the school from 1912 to 1915, and MacSherry from 1911 to 1916.

Even though Laughton was a year younger, he and MacSherry were classmates until the last year of Upper Grammar, during which they both competed for Classics awards, as Charles was awarded the top prize in Lower Grammar, which MacSherry won the following year. Apart from Classics and theatricals, MacSherry was also noteworthy in elocution, winning a prize for it. Laughton and MacSherry were also together in the school's OTC, Laughton as a humble cadet and MacSherry attaining the rank of Company-Sergeant-Major.

You must now be wondering if Laughton and MacSherry ever met again on the professional stage later in their lives. Most sadly, as you will read, this wasn't to happen.

After leaving Stonyhurst, MacSherry initially served (one must suppose briefly, on his being called up) as a private in the Oxfordshire and Buckinghamshire Light Infantry (with the regimental number 27301), and later joined "E" Company, No. 6 Officers' Cadet Battalion at Balliol College, Oxford in August 1916, being gazetted to the 3rd Connaught Rangers the following February. As a newly-commissioned second lieutenant, he was sent to France shortly after his nineteenth birthday in March 1917 to be attached to the 6th Connaught Rangers (47th Brigade, 16th Irish Division, New Army). He spent a week in a base camp and then three weeks in the Divisional School before finally proceeding to join the battalion.

During the days prior to the battle of Messines, during the night of June 4-5th, having been in the trenches for only two days, second lieutenant John Dermot MacSherry took part in a raid against German trenches near Wytschaete. As his platoon returned to the British line, he was hit by shrapnel from an exploding shell and killed. A couple of days before this, MacSherry had written a letter to her mother asking her to pray for him and not to worry if she didn't hear from him for a bit longer than usual. No doubt he was aware of the impending action, and that in the course of this he could be wounded or killed.

A few days later, the 6th battalion Connaught Rangers took part in the battle of Messines (7-14 June 1917), which included the capture of Wytschaete. MacSherry's commanding officer wrote a letter of condolence to his mother. As a consolation he mentioned that the raid had been important in order to secure the success of the subsequent battle. An officer of his Company also wrote to MacSherry's parents at Birmingham, telling them, among other things, that he "was at Confession the night before going into the trenches". This, however, must have been little consolation to them as he was their only child.

He is described in his obituary as "a boy of particularly fine character, upright, and honest, somewhat serious and reserved, but admired and respected by all for his high ideals and sense of duty". Had he not died during the war, would MacSherry have become a professional actor? Or perhaps he may have become a successful amateur actor whilst pursuing a career in a different profession? We will never know, of course: he was just one of countless European youngsters whose future was randomly truncated by the Great War.